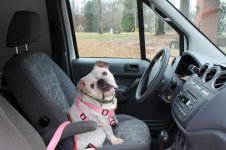 12/20/18: Please welcome Peggy Sue! Peggy Sue was adopted from a shelter a month ago then turned over to a different shelter this morning. Luckily the shelter turned her over to us today so that we can get her proper vet care and a new family. She is underweight, covered in fleas, has a few wounds on her body, she is heartworm positive, needs to be spayed, needs to have her palate shortened, and has some abnormal mobility issues in her back end. We will tackle one issue at a time. In the meantime we will get her vaccinated, get rid of those fleas and put her on oral antibiotics to clear up the wounds.
12/28/18: Peggy Sue had her surgery today and all went well. She was spayed and had her palate shortened.
1/3/19: We took a few x-rays and consulted with the orthopedic specialist and it appears that Peggy Sue has some abnormal vertebra that is pinching in her spinal cord which is causing the abnormal mobility and lack of feeling in her back end. It is possible she may also have a slipped disk so we will have a neurological work up including an MRI done later this month. This visit alone will cost between $3,000 and 4,000. If she does have a slipped disk that can be fixed with surgery then we will move forward with surgery. This surgery will cost an additional $5,500 – $7,500.
Her vet bills are adding up quickly! $981 for her exam, vaccinations, bloodwork, medications, spay and palate surgery. Her heartworm treatment will cost approximately $500. Her neurological visit will cost between $3,000 and $4,000. And possibly $5,500 to $7,700 for spine surgery if needed. Please click on her donate button below to help with her vet bills if you can. Any amount helps!
1/17/19: Peggy Sue had her neurological consult and MRI today. Unfortunately there is no surgical fix for her but fortunately she is not in any pain and there is no reason to believe her condition will worsen so that is a plus. We will move forward with her heartworm treatment for now then she will be cleared for adoption.
1/22/19: Peggy Sue started her heartworm treatment today.
2/12/19: Peggy Sue has completed her heartworm treatment and has been cleared for adoption.
approximate age: 6
approximate weight: 39
likes dogs: yes and no. She can be around them when closely supervised but prefers to be the only dog.
likes cats: no
likes kids: yes
food: Tate Of The Wild, Pacific Stream
lifelong medications: none


Please view the adoption process and fill out an application at their website---> georgiaenglishbulldogrescue.org
To view more available English Bulldogs from this rescue, click this link ---> Georgia English Bulldog Rescue
Please let them know you found them on English Bulldog News!
​

​