For the most part, Goob is the picture of health. He used to eat Merrick Grain Free Buffalo but two months ago, we switched him to Nature's Variety Instinct Raw Boost (Venison and Lamb).
He made the switch very well. He has firm regular poop, he isn't itchy, and he seems to love the food.
The only thing I am noticing is that his LEFT EAR has more build up than before. Every couple days it gets pretty waxy and I need to clean it out. Now his other ear is perfectly healthy!! No build up at all. Neither of his ears are pink and he hasn't had any ear infections but he just has one dirty ear. It doesn't seem to bother him but I'm just wondering, could this be an allergy thing? I wipe both ears daily with witch hazel but I need to spend more time on his "dirty ear."
Because it isn't bothering him, I don't want to switch his food again...yet....Its just kind of weird. Could something else besides the food cause only one ear to build up wax faster than the other one with no other signs of allergies?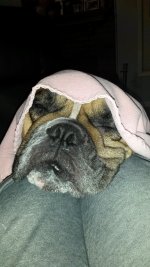 <The king waiting for me to get off the computer and come to bed...those are my knees he's resting his chin on haha