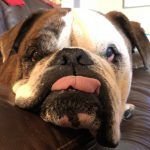 Welcome Mullet to our rescue family! We all know Bulldogs come in all shapes, sizes and colors. Mullet has one of those anomalies that shows up on rare occasions. He has a tail. But it is not just any tail. It's a thick, 10 inch tail that never stops wiggling. We give second chances all the time to Bulldogs with various anomalies, so why not with Mullet?
He was found roaming the streets and was picked up by a local animal control officer. He was covered with fleas, and his eyes, ears, teeth and skin all need treatment. Mullet is estimated to be 5 years old and weighs 68 pounds. So far, he seems super sweet and is full of energy and love. Mullet just wants a second chance to be accepted, cared for and loved. Why the name Mullet? Well, as someone said, "He is all business in the front, and a party in the back!"
Vet update on foster boy Mullet: He has corneal ulcerations/scratches, bilateral ear infection, oral infection and kennel cough. We'll do his dental when his cough is better. He seems to be very sweet. His bloodwork will be here on Monday.
11/6/17 Update: Mullet finally arrived at his foster family's home today, and this boy is a character already. First off, THAT TAIL! It never stops wagging. It is actually kind of cute! So far in the few short hours he has been here, we know he LOVES stuffies, aka stuffed toys. He lets you know when he is done eating and ready to come out of his room. Let's just say he is very vocal… period! And he has learned where to sit on the couch and get some lovin'. Stay tuned for more updates! Mullet loves his baby foster brother. Mullet follows him around, begs for a snack and wants him to rub his belly. It's so sweet!
Mullet's tail.MOV
11/10 Update: Foster Mom and Dad had the day off today, and I have been hanging out with them all day, helping clean the house, and help babysit my foster brother. That has all been done, and now it is nap time. I love snuggling and I found my favorite spot on the couch. I think I can get used to being a couch potato!
11/21/17 Update: Mullet checking in. I have had an awesome week! Me and the mini human play all day long. He gives me snacks, and I show him some bad habits, like climbing all over the furniture. We like to get in trouble together. But we just love each other. You see, I love kids, and anything with fur. I just like having company. I always want to be very close to Foster Mom and Dad; they call me their shadow. I follow them from room to room, and I just love to sit and watch them. My favorite is sitting on the couch with Foster Mom and her just loving on me. Oh! And getting to be in the kitchen with Foster Mom while she cooks. I am the official taste tester, and I take that job seriously. I am very well potty trained, and I will let you know when I want out and back in. They have been letting me sleep on the couch at night, and I have to say, this is the life! Foster Mom loves it when she gets up in the mornings and I come meet her at the gate and I am so happy to see them. I go out and do my business, and then I sit and wait for my breakfast like a good boy. This week, Foster Mom said her family is coming to stay, so I will have visitors. I cant wait to meet them and show them how much fun me and the mini human have together. We hope everyone has a Happy Turkey Day!!
Wanna Adopt?
Please view the adoption process and fill out an application at their website ---> dfwbulldogrescue.org
To view more available English Bulldogs from this rescue, click this link ---> Lone Star
Please let them know you found them on English Bulldog News!