Owner/Administrator

Staff member
Community Veteran
Jan 28, 2010
24,756
1,245
Country

USA
Bulldog(s) Names

The Home of the Desert Sky Pack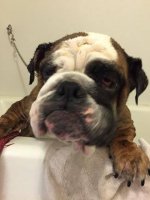 PLEASE PUT YOUR PAWS TOGETHER FOR MEME
I am on my way to take our Meme in for emergency eye surgery!!
Meme's globe has ruptured and she needs her eye removed.asap!
Please think good thoughts for this girl today and I will keep you posted.
UPDATE: Our girl did very well yesterday and made it through a difficult surgery. Her eye had a small rupture in the back of the eye for some time that had become infected and eventually took it's toll and her globe on the front of the eye ruptured so it was very painful for her and there was nothing we could have done to save her eye. Meme is young and will adjust to life with one eye. She still has a long road ahead of her, so please keep her in your thoughts and prayers.
In the 6 days that we have had Meme in our care, her bills total $1400 and she still needs further medical care and a spay when she is healthy enough.
Please consider making a donation to Meme and her care. We can not help these kids without your support.
I've Been Adopted!
To view more available English Bulldogs from this rescue, click this link ---> Pacific NW Bulldog Rescue
Please let them know you found them on English Bulldog News!

Last edited: