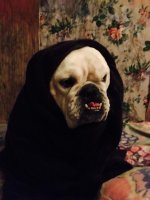 Magpie is an incredibly sweet 4 year old little girl. She approaches any and everyone she meets with a big smile and lots of kisses. She does NOT get along with other dogs and seems to want to chase cats.
An ideal home would be with someone, likely an older adult or someone who works from home, who does not have other pets and does not mind having a dog snooze next to them.
Magpie generally listens, responds well with the use of treats and positive reinforcement.
She is good on walks but definitely becomes aggressive when she sees other dogs. In the short time I've had her, she has become better at listening when I say "leave it" but she definitely still tries to lunge if the other dog is close by.
View attachment 78635
Wanna Adopt?
Please view the adoption process and fill out an application at their website ---> socalbulldogrescue.org
To view more available English Bulldogs from this rescue, click this link ---> SoCal Bulldog Rescue
Please let them know you found them on English Bulldog News!