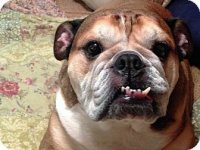 Please meet Kahlua. She is a 6yr old fawn with white markings English Bulldog who weighs approximately 70lbs. Kahlua came to us as an owner surrender and was in rough shape as she had not received any Vet care since she was 16 weeks old. Miss Lu will need daily maintenance care for her eyes, ears, and tail but she has made a truly dramatic transformation. She's a cuddle bug and considers herself to be a lapdog. She loves to take long naps beside her human, play ball, and will run and bark like a pup at the mere mention of the prospect of going for a ride in the car!
We do not believe that Miss Lu had been socialized around other dogs or young children prior to her arrival into our family. She presented herself as food and toy aggressive around our 2 yr. old male bulldog. We continue to work with her and she has greatly improved and for the most part tolerates our bully. She does not seem to mind cats and usually completely ignores ours. We do not have any children still living at home so I cannot speak to her temperament around anyone other than adults.
Miss Lu has a very dominant and strong willed personality and will need someone who can be her Alpha dominant pack leader especially if adopted into a multi-dog family. She is coming out of her shell and becoming more social daily but needs guidance, patience and a lot of belly scratches from her human.
Miss Lu will require eye medications in both eyes twice daily and may have some minor sight loss from the lack of veterinary care for most of her life. She will also need her ears and tail cleaned nightly. She is up to date on shots and has been spayed and tested negative for heart worms. Miss Lu is house trained and crate trained and will make her forever human the center of her world!
Adoption donation is: $400.00
All adopters must live in Ohio, or within a 2 hour driving distance of the border.
We do not adopt out to families with children under 8 years old.
View attachment 80122
How To Adopt:
Please view the adoption process and fill out an application at their website ---> rescueohioenglishbulldogs.org
To view more available English Bulldogs from this rescue, click this link ---> Rescue Ohio English Bulldogs
Please let them know you found them on English Bulldog News!