Sep 13, 2018
13
0
Country

Bolivia
Bulldog(s) Names

John Snow
Hello guys,
I found this site and thought maby somebody expert can help me to identify if my dog actually is a bulldog or what kind of breeds have been mixed.
First I would like to explain my personal situation: My name is Judith I am german and after a social developing program I have lived in Bolivia (South America) for the last 5 years. So sorry for the bad spelling, I am starting to forget this beautiful lenguage because of talking spanish all the time:D. So two years ago I adopted a dog, because his owners wouldnt have him anymore.
I do not no much about Bulldogs, but I think he has some traits of this breed. But I also noticed, that he doesnt look too much like the other bulldogs I saw, so I guess he isnt a pure bulldog.
So that doesnt really matter to me, but here comes the problem:
If I would like to take my dog to germany there are some strict rules about the breeds. There is a list of "dangerous dog-breeds" and if you own one of them - even if its only a crossbreed- you need a licence, and I am not sure if you can import them from other countries.
Now I learned that the "olde english bulldog" for example is mixed with pit bull sometimes.
So I would like to ask you if you can help me to recognice what kind of breed is my dog? I would be very grateful!
About my dog:
Age: Unknown
High:46 cm - 18 inches?
Weight: 22 Kg - 48,5 pounds?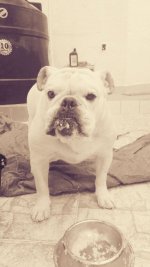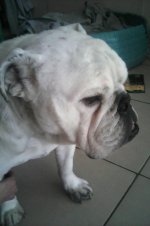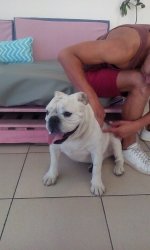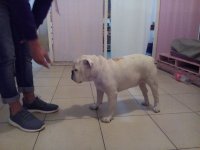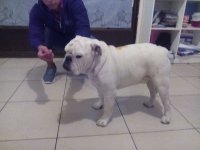 Thank you