Jun 25, 2016
77
5
Country

USA
Bulldog(s) Names

Lincoln
Hi everyone. Recently new member here. I have an 8 month old pure English Bulldog puppy named Lincoln.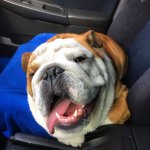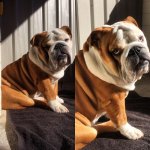 I am posting to get some insight on a skin issue he's been having. A few months ago, I noticed on his back near his butt, he had a few crusty/scaly bumpy yellowish spots that I didn't think too much of at the time. He was never bothered by it and I had just thought it was maybe some dry skin. They were also not bothering him and you couldn't see them unless you pulled the hair back with a comb. Anyways, fast forward about a month, I noticed the few bumps starting to become larger. At this point, the bumps still had the same appearance; hard, crusty, scaly bumps. No pus or redness to them and never bothered him. At this time I finally took him to the vet to have him examined. They performed a scrape test; negative for mites and ring worm. The vet prescribed Simplifec 100mg once a day for the next 4 weeks. I was also giving him Chlorohexidine baths 2x a week. After the course of the antibiotics, I really didn't see much of an improvement, if any.
I took him back to the vet after the 4 weeks on antibiotics and was told that since the bumps were not bothering him and he didn't respond much to the antibiotics, that we try just leaving it be for now and see if it will clear up on its own before considering other options (stronger antibiotics, topical cream, biopsy, etc.) I was not too keen on continuing antibiotics any longer at this time.
So it's been a few weeks now since he's been to the vet and here is what they look like now. The breeder suggested I try him on some Zyrtec 10mg once a day. So I've been giving him that for the past week or so. He eats Taste of The Wild adult food and has always eaten this brand since I got him at 11 weeks old. What do you suggest I do at this time? A part of me thinks to just leave it be since it doesn't bother him at all and he's acting totally normal; however, since he's young, I would rather tackle the problem (if it is) now rather than later to keep it under control.
Here are some pictures of the bumps. He has 3 bumps (about the size of a pea) on his back near his butt. The hair has thinned out over them as you can see by the pictures. Any help / recommendations / insight is much appreciated. Thank you.