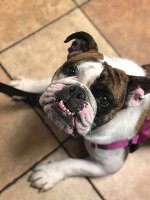 Hello everyone my name is Chantilly Lace or just Chantilly or Tilly or Miss Lacy! I am a two year old bulldog I came from a puppy mill because they couldn't use me to make more puppies anymore. My foster mom and dad say I have a pretty little face, a wiggle in my walk and if I could talk there would be a giggle in that and that's what makes the world go 'round. After having never been allowed to be a puppy I'm living life to the fullest now I still have some things that scare me and I am extremely curious of, my foster brothers and the food box . I also diss like the garbage can and loud noises, however I enjoy long walks sniffing trees, bushes and patches of grass at random I'm getting better on my leash but I still have some work to do. I am working on my manners, I know how to sit and I love working on tricks for treats!! I love treats!! Did I mention, I love treats!!! The word precocious gets thrown around a lot when talking about, me whatever that means. I come with a few little issues that were trying to get cleared up I have a yeast infection in my ears, and a bladder infection. But my foster mom and dad assure me I'm a good girl and somebody's going to Give me a furever home and Love me one day.
​
Please view the adoption process and fill out an application at their website ---> ebullymatch.com
To view more available English Bulldogs from this rescue, click this link ---> Chicago English Bulldog Rescue
Please let them know you found them on English Bulldog News!
​