Jul 26, 2011
1,758
396
Country

US
Bulldog(s) Names

Bullie (RIP) & Angus (RIP)
She is old. But still spunky. Still digs holes in the garden. Still bullies her 10 year old brother. She turned 13 last week. And it's starting to show.
Yesterday, she stumbled on her hind legs walking on the uneven pavers. This worried me greatly. We've tried to maintain her and her brother on the skinny side, not to the point of ribs protruding while standing, but skinny that the rib is right beneath the skin. This seems to be the best for both of them.
I have nothing but good things to say about the Prey-model Raw diet. There's a close-up picture below of Angus' teeth. It is sparkly clean (can't do anything with them crooked gobblers hah!). It is very easy to maintain their weight - if they get too fat, lower the amount of food, if they get too skinny, add more food. Results of food change can be seen in just a few days. Hair - well, I can't tell if its shiny or not, these dogs have this strange fascination with dirt and I figured a daily wash will hurt them more than the dirt will, so they're dirty dogs... but their hair is soft, at least that I can tell. I use a home-made dooley for both dogs' poop out of a 13-gallon trash bin buried in the ground. I don't add the enzyme at all. Just pop the poop in there and let it decompose on its own. The native worms like going in there too and help out. After almost 10 years of use, the level of composted poop has not reached halfway up the bin. For two dogs! No major vet visits - just the usual checkups.
So yeah, their situation is not ideal but they just told me while I was trying to pose them for pictures - Woof, woof! Which I translated to - We're happy dogs! Hah hah.
Bullie turned 13 years old last week: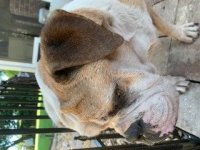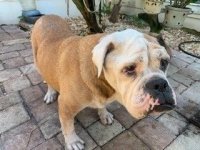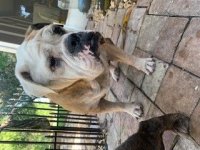 Angus turned 10 years old last month: