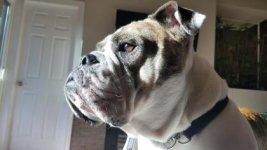 Beau is a very snugly and silly guy! He loves to be in your lap, or sleep up on the back of the couch like a cat. He also loves to dress up and wear costumes! But his coat is so beautiful, you won't want to cover it up very often. He does well being alone during the day, but the minute you're home he wants your undivided attention, mostly in the form of food, play, and snuggles. He will follow you around and likes to stay close.
Beau has some bad habits that his foster parents are working on with a trainer. Whoever adopts Beau will need to continue with his training, and even join us for a few sessions with the trainer before adoption. He has two big skills he's working on. The first is leash skills, not pulling, and not reacting to anything four-legged. The second I'm going to call "welcoming skills". Beau is great in the house with his foster parents, but when a guest comes into the house he has some less than desirable behaviors directed at the guest, including humping and even nipping. It's not an aggressive behavior, but it is a dominant and attention seeking behavior that will require consistent training to change.
Beau is very smart and really wants to please, he's just never been taught the right way to behave until now. We are still early in his training process, but so far he is responding well. Continued training will be essential for Beau and his new family to all live a happily ever after.
Beau is looking for a home without any other pets or small children. Homes with teens may be considered if the teens are willing to be "trainers" along with the parents. He's also looking for a home with a well fenced yard and bonus if there's a doggy door out to the yard. If you feel like you might be the right home for Beau
Wanna Adopt?


Please view the adoption process and fill out an application at their website ---> bulldoghavennw.org
To view more available English Bulldogs from this rescue, click this link ---> Bulldog Haven
Please let them know you found them on English Bulldog News!