Moderator

Community Veteran
Dec 9, 2016
5,294
776
Country

United States
Bulldog(s) Names

King Louie, Jax (French Bulldog), Ella Mae and Darla Rae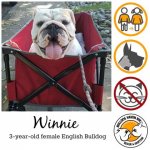 Winnie is settling in well to her new foster home. While she came to us from a very loving family, her history before that is not as happy. She spent her early life locked in a crate, having puppies. As a result of her crate time and lack of training, she has some significant potty issues. Her foster family has been using diapers on her. She doesn't like to go in the diaper, so she's effectively learning hold it when she's in the house with a diaper on, and that she can go when she's outside diaper free. We anticipate that the use of diapers will be temporary just while she's learning. Winnie also never really learned how to walk on a leash. Sometimes she's willing to walk a little, but usually she will just lay down in the middle of the walk and not move. So we introduced her to the wagon, which she loves!! So her current routine is diaper in the house, wagon ride to a great potty spot where she does her business, then a nice walk or ride back home.
When she's in the house, she's a loving, snugly couch potato! She doesn't have any significant health issues at this time aside from common Bulldog allergies. She is not friendly with cats, and she's picky about the dogs she likes. She's an alpha female. She will also be OK with older kids, but because she is so fearful, she will do best in a quiet home with a consistent routine. She will need an extended period of adjustment as she gets to know her new family before she's officially adopted. If you feel like you can meet Winnie's needs, please send an email to express your interest to
adopt@bulldoghavennw.org
after you have an application on file.
Wanna Adopt?
Please view the adoption process and fill out an application at their website ---> bulldoghavennw.org
To view more available English Bulldogs from this rescue, click this link ---> Bulldog Haven
Please let them know you found them on English Bulldog News!