Moderator

Community Veteran
Dec 9, 2016
5,554
1,361
Country

United States
Bulldog(s) Names

King Louie, Jax (French Bulldog), Ella Mae and Darla Rae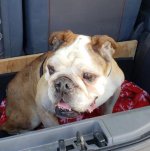 Mr Valentino came to BHNW after being a stray found in Western WA. He's very underweight so he'd likely been on the streets for a while so his foster family said he's somewhat untrusting at first, perhaps because of his abandonment but he warms up quick. He's a senior citizen (approximately) 10 years old and he's got a slight limp in his front left leg. Likes body rubs and face scrubs. Mr. Valentino is an escape artist so he should have restraint in the car because although he may be 10 years old, he'll get where ever he wants to in the car. He does not appreciate being quarantined so he will begin the escape process when you turn your back (house or vehicle), probably because he doesn't think you gave him enough pets or cuddles. Very friendly with other dogs and while his foster family doesn't have any kids, they feel he'd probably be great with them. Very sweet curious fella. Won't you consider investing time and patience in giving him a secure new future so he can forget the past ? He'd do best in a 'stair-free' home.
Wanna Adopt?
Please view the adoption process and fill out an application at their website ---> bulldoghavennw.org
To view more available English Bulldogs from this rescue, click this link ---> Bulldog Haven
Please let them know you found them on English Bulldog News!