I'm livid! Royal Canin made this posting in their Facebook page in Finland a while ago.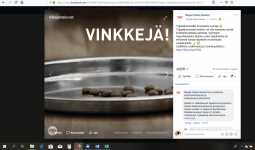 There was a picture of a dog food bowl with no sides in their web page. You may not be able to understand what the text means, but I will try to translate. You will get the point.
The original swedish text goes something like this.
"Greedy dogs can benefit from eating slower. Some dogs can eat their foor too fast that can lead to poor digestion, increased gas formation and sometimes vomiting. In such cases, it may be worth trying to serve the meal on a tray and or use food specially developed for the breed to encourage them to chew."
This is how it has been translated to the finnish website.
"No bowls with sides for short muzzled breeds. It may be difficult for short muzzled dogs to eat from bowls with high sides. To make eating easier serve their food from a tray or bowl that is especially dedigned for you dogs needs."
I asked a group of pug, frenchie and bulldog people have they ever countered this problem and they were all as baffled as I am.
Royal Canin Nordic replied that it was a "little slip up" in translation. This slip up has been on the website for, we don't know how long. Notice the smiley in the Facebook posting....
Royal Canin Nordic acted very indifferently replied that it has been corrected, can we just forget it.
| | |
| --- | --- |
| | I truly hope nobody feeds RC to their bullies, not just cause it's crap, but also cause their false marketing that only harms the bulldogs reputation. |