Moderator

Jan 8, 2013
2,869
198
Country

Sweden
Bulldog(s) Names

Boeboe, Bennie Boy and Joey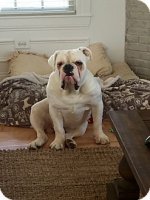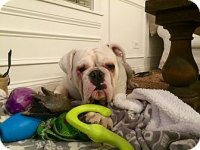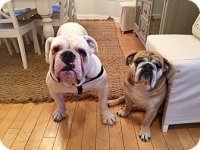 Sullivan aka Sully's Info...
I am already neutered, purebred, up to date with shots, and good with dogs.
Sullivan aka Sully's Story...
Please welcome the gentle giant, Sullivan (Sully). This giant 2 year old baby was posted for free on Facebook. Within minutes a number of rescues including CEBR reached out and offered help. Unfortunately Sullivan's owners refused the help from rescue and dumped Sully at Chicago Animal Care and Control. Thankfully CEBR was able to act swiftly and got Sully out of CACC in under an hour!! We can't imagine how Sully would have handled being in that environment?
Sully is a giant puppy. He likes to chew anything he can get his mouth on, We are working on this and redirecting him to chew on his toys. He absolutely loves attention and affection, now that he trusts us. He will melt in your arms while being petted. He is the cutest smile emoticon He gets along so wonderful with the other dogs, he instantly becomes more at ease as soon as he meets them. We would like that Sully be adopted with a second dog. He is very polite and the perfect mix of playful and calm. When he has his playful moments he doesn't know his own strength. We would also suggest that Sully's adopters have a fenced in yard. Sully gets the zoomies each night, running around the yard until he tires himself out. He whips around the yard jumping threw the air ears flapping. It absolutely amazing to see, after seeing how afraid and fearful he has been. He is your typical puppy, he needs a puppy proof house, handler. He is even very puppy like with his interactions with the other dogs. He tries to chew there faces, legs, arms, anything he can get. All around Sully is a great dog, he just needs typical puppy training and he will be just perfect.
Update: I've been ADOPTED!
To view more available English Bulldogs from this rescue, click this link ---> Chicago English Bulldog Rescue
Please let them know you found them on English Bulldog News!