Flip'n'bullies stole my heart!

Jan 10, 2013
4,668
281
Country

USA
Bulldog(s) Names

Mabel (20??-2017) Ariel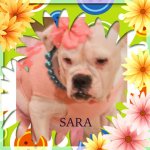 Sara - Available
Age 5
Adoption fee: TBD

Sara, along with her sister Mae have found themselves back in rescue.

She was adopted by loving parents we spoiled her terribly, they soon added her sister Mae so she would have a companion.

Unfortuantely her momma passed away and dad had to go back to work. So he felt it was in their best interest to return them to us to help find them homes.

Due to her leg being broken as a puppy and her first owner never getting it fixed she does have a limp and arthritis. She will need to be on daily medication for the rest of her life.

Looking for a loyal snuggling buddy? This girl is for you.
Wanna Adopt?
Please view the adoption process and fill out an application at their website ---> rescuebulldogs.org
To view more available English Bulldogs from this rescue, click this link ---> Tornado Alley
Please let them know you found them on English Bulldog News!