Hello everyone,
I'm guessing this is a fairly common issues with bulldogs. Unfortunately , I have been to the vet twice now and home with a dose of antibiotics. My girl is now on her second round of antibiotics and they are obviously not working. After a week on them, another raised red bump has appeared between the toes today.
I feed her Fromm Lamb and Lenti and I clean her paws and bath her with the below wipes and shampoo.
Any help would be so appreciated.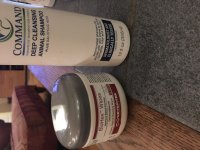 Thank you so much !!!