To sum it all up in order to get a quick response: is this normal 8 week old puppy behavior or is this a sign of aggression? The EB just met the Goldendoodle.
https://drive.google.com/file/d/1AIwIa2a3VtDkEqQtSRONiAT80VfAdn8S/view?usp=drivesdk
If no sound
Https://www.dropbox.com/s/rq6wgaefzhqpxt0/IMG_4924.mov?dl=0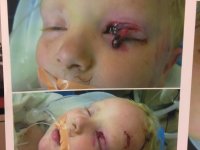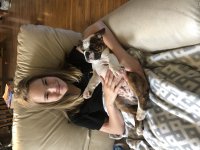 We have had our new puppy exactly a week. He is doing well except for a few things. Potty training well, knows sit and learning to use the crate. We let him sleep with us at night. He tried to choke himself on a bully stick. Won't be giving him those again!! We have a wonderful Goldendoodle who is tolerating him very well. The GD immediately taught him how to play rope tug. Chunk, the EB, is definitely a dominant dog. It was very cute and the GD is very gentle with him. Even from day one he immediately became a little over aggressive to the 2.5 yr old GD. I am new to this type of personality. Sometimes no and pointing a finger at him seems to mean MORE. We have started using timeouts, which are helping. My son had reconstructive cosmetic surgery from a black lab dog bite when he was two. I was not there but the dog had seizures, he bites and my MIL should have never let my son near him. It was not the dogs fault, it was my MIL's. Ever since that injury we have always owned bloodhounds due to their gentle nature. They were fantastic, our GD is the same. We started experimenting outside of the bloodhound breed once our kids were older and have been pleasantly surprised. I admit might be a little over worried, I have read this is normal EB puppy in several places. I want to get him fixed ASAP but the vet says they usually wait till at least 12 weeks.
We have a deposit on a girl that we are supposed to pick up 6/6. I am second thoughts... I am thinking maybe Chunk goes and we get the girl instead? Girls are typically less prone to aggression in the canine world statistically speaking.
I am wondering if this is normal behavior or if we should be alarmed.
My kids are now 14 and 17. I realize they will be gone soon and I have always wanted more dogs. P
My husband also has a Mini Doxie but he just hides from the bulldog as the bulldog is like a pac man bull dozer. We keep them separated except in our laps and they usually do pretty well together but it must be supervised as Chunk gets rough with his play which is expected.
I admit I work in an RD and strongly believe pit bulls have been bred for aggression in the past and that they are prone to more aggressive attacks although MOST are wondered family pets. I saw another owner who was killed by her two pit bulls after being quarantined for biting a person. She was killed at the quarantine facility.
https://blog.dogsbite.org/2019/03/dog-bite-fatality-pit-bulls-kill-owner-bite-quarantine.html
I have researched and researched the bulldog breed and I have never seen a full EB kill someone. I have the time and money to devote to a dog but we remIn very active and travel. If this will be too much stress for the dog then maybe he is not for us? Please help!!!
I called several rescues In my research to determine the main causes of owner surrender. Only one admitted aggression is becoming more and more of a problem within the breed. I thought she was biased.
I understand aggression and dominance are two separate things. Sorry if I have offended anyone.
I am trying to attach two videos. One is of him earning to play tug, the next is him kind of bring agreesine with our GD. He gets more dominant than this. Thoughts?
Last edited: