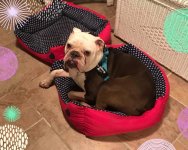 Status:
Available
Age:
5
Gender:
Male
Location:
Omaha, NE
Reason given up for adoption:
Owner Surrender
Temperament:
Loving goofball
Health Condition:
Excellent
Placement Limitations:
None
Special Needs:
No
​
Comments:
Guinness is a big lover who plays well with kids and other dogs. Guinness sometimes has stiff hips (aging is rough!) but generally is quite spry and playful.
Update from foster :
Guinness has been outstanding with my 4 year old son and my bully. He does fine with other dogs at events also. Guiness is potty trained completely. Sometimes Guiness gets to be a bit too friendly with his canine friends, but we're working on that bad habit. Guiness thinks he's a lap dog, don't tell him otherwise! He loves his people- needs constant petting or cuddling, even just a hand on his back works just fine! Guiness can be left out all day on his own- no chewing or accidents. He is really a perfect dog and deserves his awesome forever home ❤️♥️

Wanna Adopt?


Please view the adoption process and fill out an application at their website ---> GLBR

To view more available English Bulldogs from this rescue, click this link ---> Good Life Bulldog Rescue

Please let them know you found them on English Bulldog News!

​

[SUB][SUP]
[/SUP][/SUB]
​