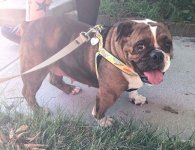 Status:
Available
Age:
5
Gender:
Female
Location:
Omaha, NE
Reason given up for adoption:
Stray
Temperament:
TBD
Health Condition:
Just a little tune up required!
Placement Limitations:
TBD
Special Needs:
No
Comments:
Delilah (DeDe) appeared as if out of thin air—a doorbell was rung and the only one found on the doorstep was this cutie patootie! Our vet believes she's between 5-6 years old and has had several litters of puppies. DeDe is currently being treated for an ear infection, possible UTI and will need a spay with dental/extractions prior to adoption. DeDe kennels easily but does have some potty accidents. We'll be evaluating her temperament as she settles into her long term foster home shortly.
Update from foster:
Delilah is a complete wiggle butt that loves to cuddle. She loves being center of attention and that causes rifts with Ruby as she also wants to be center of attention. She does not always do well being around other dogs and would need either slow intro or to be only dog. She still has potty accidents but is getting better about going outside. She isn't one much to play with toys but is learning. She loves being outside and rolling in the grass. She loves to eat, likes evening strolls and belly rubs. She lets you cut her nails and clean her ears.
Adopter will be required to travel to Omaha for dog intro and adoption. Adoption fee $500.

Wanna Adopt?


Please view the adoption process and fill out an application at their website ---> GLBR

To view more available English Bulldogs from this rescue, click this link ---> Good Life Bulldog Rescue

Please let them know you found them on English Bulldog News!

​

[SUB][SUP]
[/SUP][/SUB]
​