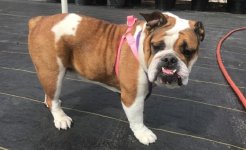 Please welcome Gracie Irene to our rescue family! As cute and smart as they come, Gracie is a rather fluffy lady, even though her photos make her look thin. Maybe it was the camera angle, or maybe she was holding in her stomach, but she really is thick and perfect.
Gracie has no sad tales to tell. She had a loving family that felt like she had more medical needs than they were prepared to handle. They wanted her to have a fabulous life with people that could take great care of her always. Gracie seems to having reoccurring UTIs that require antibiotics often and her vet recommended a special dog food to help with that. Gracie has lived in an active family, with other dogs, teenagers and a parrot. Gracie is off to the vet to find out what ails her and then she'll be ready for a family that loves a perfect, young lady Bulldog!
3/20/18 Update: Well, hello my friends. It is I, Miss Gracie Irene, checking in with news from da doggie 'hood. The ride to my new digs was an adventure. I was not happy with the seat belt through my harness so I twisted around until my ample butt interfered with the stick shift of the Bulldog limousine. A leg kick knocked it out of gear on the SRT at 70 mph. Foster Dad just kept loving on me, but that raised a fur storm. Hey, "I need to be brushed," is the message I hope he got. "Pay attention, "Ahm tawkn heh." It's OK, foster parents speak Northeast and understand me.
Am I the belle of the ball or what? My doctor says I need to shed a few beauty rolls. I say, "Wha chu tawkin' bow?" With some regret, as of my new address at this Bulldog spa, I am officially working on my summer bod. You fellas shower us lovely ladies with indulgent attention, so we are not to blame. Do I have an "Amen" from the biped ladies in the crowd? Alas, I am just passing through these parts on my journey to my furever ranch. My new foster dad says that it won't be long for a family to fall for me. Well, who could resist? I am beautiful, sweet, loving, and modest! I will be ever so ready when my furever family finds me. My plan for potential adoptive families is to knock 'em dead at the Bulldog Bonanza with Beer this weekend at Bar 2909 in Fort Worth. Meanwhile, I am enjoying a relaxing vacation at this full service, all-inclusive resort. It has other Bulldogs, a permanent queen and a visiting princess. Their advice is to enjoy the moment. The pace here is calm and pleasant. I am in enjoyment mode for now. I needed to take a urine test this weekend, but did not know how to study for it. My doctor told foster dad to put a soup ladle under my butt. Wow, that worked great! I guess they are going to use cups from now on to serve soup, huh? I am energetic, affectionate, well-behaved, house trained, and looking for love. I travel light, so I can be ready to move in at any time. As Chris Montez sang, "Call me."

​
Wanna Adopt?

Please view the adoption process and fill out an application at their website ---> dfwbulldogrescue.org
To view more available English Bulldogs from this rescue, click this link ---> Lone Star
Please let them know you found them on English Bulldog News!
​