Moderator

Jul 11, 2010
3,395
291
Country

United States
Bulldog(s) Names

Bentley, Linus, Truman
As some of you know, today is my birthday and, for 7 years, I was lucky enough to share it with my angel bully, Linus. I posted this picture once before and told the story that goes along with it but I thought I'd retell it one more time, in honor of what would've been Linus' 8th birthday.
Linus was one of four in a litter, who were all born premature. The only pups that survived past birth were Linus, and his sister Winnie (pictured below at birth):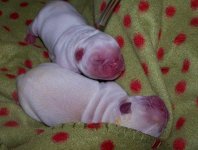 Sadly, Winnie also passed away, leaving just Linus by himself.
The lady who I got Linus from lived in Illinois. I happened to see him on her Flickr (photosharing) site and he was so darling, I had to inquire! She explained to me he was a single pup, a preemie, and would probably always be tiny. He had nick on his neck that would never grow hair because he was delivered with such haste because the puppies were in distress. He opened his eyes later than puppies normally do and she wasn't sure what kind of bulldog he'd turn out to be.
Well, my preemie Linus turn out to be, at full size, 83 pounds of big, beautiful, snow-white bulldog - with the most precious polka-dotted ears: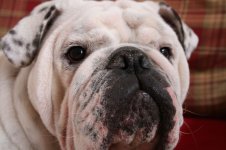 What kind of bulldog did Linus turn out to be? The best kind - adorable, fearless, loyal, loving, and funny! I would later tell his breeder, who I've remained in touch with all of these years, that I believe Linus needed all 83 pounds of his body to accomodate his finest feature - his huge heart, which encompassed the love of all of his brothers and sisters who did not live very long.
That big heart gave out on him on July 30th. I still miss him so much but today, on his birthday, I celebrate the love we shared.
Happy Birthday Linus! I love you!