Curly Update: Lymphoma Treatment Advice
It's been a while since I last posted on here. It's mainly because things have been going well with Curly, but as of Friday that quickly changed.
On Sunday the 21st, Curly had an upset stomach and was vomiting plus had bloody diarrhea. It didn't clear up by Monday, so we took him to the vet. He was otherwise behaving fine. The vet noticed that his lymph nodes under his neck were larger than normal and recommended having them checked out. He was just at the vet last month and the vet mentioned she would have noticed if his lymph nodes were enlarged then and would have informed us (i.e. the enlarged lymph nodes occured within a month).
We heard back on Friday that the lab suspects he has Lymphoma. A second test (PARR) is in process now to figure out which Lymphoma he has and how aggressive it is. Curly is still acting like himself and his stomach issues cleared up (We thought he got into the Miracle Grow. The vet said it could be that or the lymphoma)
Sadly, we said goodbye to another one of our dogs 7 months ago due to complications with Cushing's Disease, so all of this is a very trying time for us. To make matters even more strained, my husband (who Curly picked as his owner) is currently stationed elsewhere for the next 3 years. My husband, fortunately, is able to come back this weekend to go to the specialist appt with me.
Over the past few days, I've been doing online research about the disease and I'm currently weighing my decision on chemo or no chemo. Even though, I believe we caught this early, I am trying to figure out if it is a selfish decision to have Curly go through Chemo. I understand that there are typically minimal side effects with canines and chemo (definitely not the same as with humans). However, when our other dog passed away 7 months, it was very traumatizing and, if we had a crystal ball, we would have not put him through 3 surgeries prior to his passing.
Does anyone have any experience here with Lymphoma and chemo? Would you do it again?
Curly will be 6 years old on July 7th. For those who are unaware: average life expectancy without chemo is 1-3 months, with is 6-16 months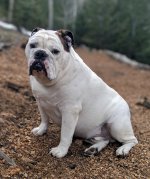 Last edited by a moderator: