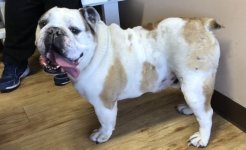 Ladies, hey ladies, it's me Archie joining rescue today! Yep, I am wearing a purple harness just to show everyone I am so confident in myself and to let you know real dudes wear purple! And, it was the only size big enough that fit me. I have that broad chest, small waist and dark eyes bulldog lovers dream about. I am the whole package. I was surrendered to a local shelter and they loved me there. They said I was the "whole enchilada," and that I was worth my weight in gold (all 68 pounds). I agree! I am all that and more. My surrendering family had some health problems and were not able to care for me any longer. They knew I needed a lot more than they could give me. I barely got to the shelter and sat down until someone saw me there and alerted rescue. And the rest is history! LSBCR swooped in like Superman and I was gone. Yep, just like that I was outta there. See ya later alligator! So I high-fived my shelter friends goodbye and loaded up. Now I am going to see the vet to have my teeth looked at because I heard someone say I needed braces! I'm a bulldog, silly people! My name is Archie, my birthday is in April and I will be 8 years old.
Wanna Adopt?


Please view the adoption process and fill out an application at their website ---> dfwbulldogrescue.org
To view more available English Bulldogs from this rescue, click this link ---> Lone Star
Please let them know you found them on English Bulldog News!