Sep 7, 2019
8
2
Country

New Zealand
Bulldog(s) Names

Zita and Bandit
Hi all,
New member here! I have been reading the threads here and thought I'd join as I have a couple of questions. I currently have two British Bulldogs who are 18 months old. They've been fed kibble as their main morning and night meal, however for about a month they were having canned bushtail possum at night which they loved. They're currently on Nutrience Subzero Canadian Pacific kibble. For treats they get dried lamb lung, green-lipped mussels and whole dried salmon (small, about 15cm long).
The girl has had tear stains for as long as I can remember and I thought it was Royal Canin so we changed kibble however it hasn't decreased, and when we're out on a walk she will eat grass. The boy sometimes get a patch of red skin under his eye on the fold and has pimples which have come up within the last 2-3 months. Hence why we are thinking of either changing to Acana brand kibble, or going raw (or giving the acana in the morning and raw at night). Just wondering what others opinions are? The kibble we were thinking of trying was the Acana duck and going from there.
Being in New Zealand we don't have all the brands available unfortunately!
And here's a picture of them!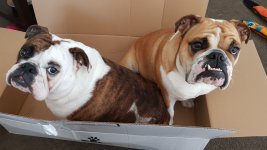 If I've missed anything out let me know.
Thanks for all your help!
Chris.