Moderator

Community Veteran
Dec 9, 2016
5,548
1,344
Country

United States
Bulldog(s) Names

King Louie, Jax (French Bulldog), Ella Mae and Darla Rae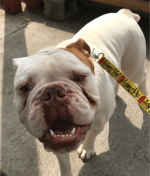 Age: 2 Yrs. Old
Gender: Male
Special Needs: No
Tolerant of children
Tolerant of dogs
Tolerant of cats
Winston Wyatt is unclear about what happened to him. What he has been told was there was a tussle over some dog food, or, his mom met a man that was not to crazy about him. Either thing might be true, or, either might not be true. All Winston Wyatt knows is that he was taken to a local shelter to find a family that wanted a bulldog . Winston Wyatt is 2, crazy excited to see people, and leaps thru the air like a leprechaun. Like all bulldogs that need a little bit of training he is a jumper, goes 100 mph and is into everything. Winston was not at all corporative when it came to having his picture taken. He was more into making sure everyone within 50 feet of him saw him and wanted to pet him. This guy is just amazing.
7/11/18 Update: Winston here to check in. I've been in rescue for a little while now but for some reason no one had room in their house for me. Well, that all changed last Friday and I moved into my new foster home. I like living in a house and I love people. So far, I actually love everything and everyone I have met. A few other dogs live here as well and they all seem cool. I started playing with one of them yesterday and that was fun. My foster mom says I can be a little "Wild", whatever that means. I think it's just that I get really excited and like to jump. She also says I'm a little too mouthy when I play and gets onto me when I try to put her while arm in my mouth while we play. I told her don't bite hard or mean to hurt anyone I just like to play a little rough and get over excited. Foster mom said it's ok and that we would work on playing a little more gently. As long as we are still playing I am ok with that!
Foster mom and Foster dad also said that I need a help learning how to walk on leash. I thought grabbing the leash with teeth and tugging was fun but they didn't agree. They can be a little boring sometimes but they said these "new rules" are good for me. I also showed them this cool trick I can do where I can back flip out of any harness they tried to put on me. Foster mom said she had never seen a bulldog do that before so I must be pretty impressive. But, you know foster mom and dad didn't look too impressed as they chased me around the pasture trying to catch me. I thought we were playing tag but apparently they didn't think that would be a fun game. Oh well, once they caught me they still gave some loving and said no more harness for you, you get a collar. I like my collar better, it's blue. I've been getting to go for walks twice a day before it gets too hot out and late in the evening. Foster mom says that helps me burn off a little of my extra energy and work on walking on a leash at the same time. I get some one on one time with one of the parentals so I think it's cool.
After our walk, they also spend some time playing with me with toys and I just love that. I love toys and playing. I also like sitting in laps. I haven't tried out the couch yet but if anyone sits on the floor I will plop right in the middle of their lap. Oh, before I forget, even though I am just big puppy I do know where to do my business. Foster mom was really happy about this.
Well, I guess that's all about me for this week. I'm excited and really hope that I get a furever family soon. I love people and want to be with someone all of the time. Love to all, Winston Wyatt
Wanna Adopt?
Please view the adoption process and fill out an application at their website ---> dfwbulldogrescue.org
To view more available English Bulldogs from this rescue, click this link ---> Lone Star
Please let them know you found them on English Bulldog News!