Feb 17, 2011
547
45
Bulldog(s) Names

Tubs
Hi All,
I guess you all knew what was going on more than I did....LOL. I apparently didn't do this contest thing the right way. I just posted my picture and asked for votes....who knew you had to register????

Well, I just went on and did it the right way, so if I haven't confused or upset you all too much and you would still like to help out a fellow bully you can now go to PetSmart's facebook page, click on the Monster Contest (that would be to the left of your screen), then you can click on View and Vote. Then you can search Tubs, under the Funniest category, Title "Milk Who???"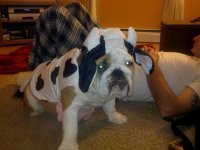 It may take a while for it to be approved and uploaded on PetSmart's end, so if it isn't there right now you can check back later! Sorry for my stupidity....that is what I get for trying to do all of this at work and not reading through everything!