Aug 7, 2015
30
1
Country

United States
Bulldog(s) Names

GusGus
Hi Guys!
I haven't posted in a while. Last I was on here, I mentioned Gus had throat and nose surgery and was getting ready for the flight from Japan to California. He arrived here on Friday night, the flight went amazingly well and he has been cheerful as ever. However, the day he landed, we noticed a small scabby area behind his shoulder, was so small we figured it wasn't an issue as he wasn't phased by it.
Well now, not only has it grown, it's no longer scabby but looks sore!
I just bathed him in a medicated anti itch shampoo (his paws have been bothering him lately) and noticed it, so grabbed a photo.
Any need for concern? We haven't found a vet in the new area yet and are pretty tight on cash, so hoping it's something we can cure from home.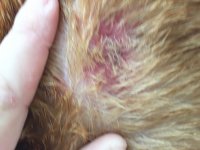 - - - Updated - - -