Jun 25, 2016
77
5
Country

USA
Bulldog(s) Names

Lincoln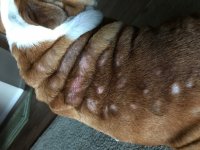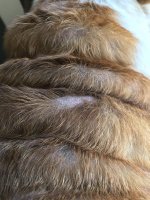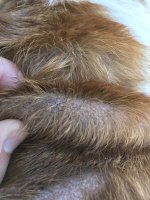 Hello all,
My poor Lincoln, who is 2.5 years old, has something going on with his skin. I can describe the spots as crusty/dry and scaly (see photos). They don't seem to bother him all that much and are not red/itchy, but they are causing hair loss and excessive shedding.
I have been using this shampoo for the past few weeks with little to no improvement -
https://www.amazon.com/gp/product/B0037Z6VK8/ref=oh_aui_detailpage_o04_s00?ie=UTF8&psc=1
I have also switched him from Kirkland brand food to Zignature fish/seafood as it has a much more limited ingredient profile (no potato). It has only been 2-3 weeks so it may be too early to tell if it's helping or not. I have also been giving him a Zyrtec on a daily basis. My breeder suggested to switch to a chlorhexidine gluconate based shampoo and antibiotics as she believes it is most likely a staph infection caused by allergies. I am going to be taking him in this week but wanted some additional feedback on what could be going on or things I could try.
Thank you.