Well-known member

Dec 4, 2012
4,537
626
Country

USA
Bulldog(s) Names

Chumley and Hershey
I am happy to say the two boys are having absolutely no problem getting along now after just a few days. hershey really is so gentle and very skittish..every little noise makes him run away..which really surprises me because the firstday here he stood his ground with Chumley. I couldnt be happier with how things are progressing! Here are a few pictures over the last 2 days...
just relaxing on the lawn not really paying much attention to each other!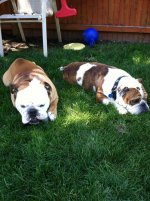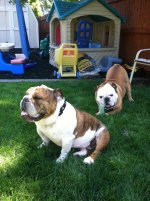 here are the 2 beggars trying to get osme scraps of food!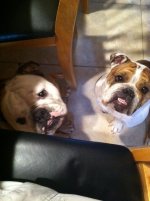 i inflated this slide/pool for my grandsons birthday party next week and hershey wasted no time jumping right in! Chum wont go anywhere near water so im going to have to get a lifevest for hershey fo when hes aorund the pool.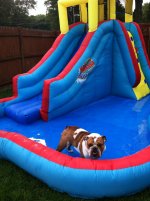 i