Swelling after TPLO?
Hi, first post here~
My baby just had a TPLO done 4 days ago due to a torn CCL. He has been walking on that leg, bathroom schedule hasn't changed (pooped right after coming home), eating habits also have not changed (eating regularly...and happily). He has had swelling the size of a golf ball on his ankle since the day we picked him up from the hospital (3 days ago), which hasn't gone down in size at all. today, we just noticed a few drops of clear fluid draining from his bottom stitch.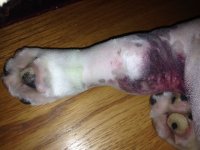 He hasn't licked his incision site/sutures. He is still walking on that leg.
For those who has had a TPLO done before, is this amount of swelling/drainage normal at 4 days post-op? Should I be concerned with potential infection or implant failure at this point? (been reading about MRSA post-TPLO horror stories online for the past half an hour.)
Any help is appreciated!