Owner/Administrator

Staff member
Community Veteran
Jan 28, 2010
24,756
1,245
Country

USA
Bulldog(s) Names

The Home of the Desert Sky Pack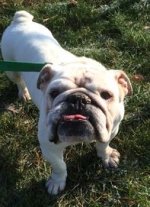 BIO:
Sweet Alfredo was found as a stray and taken in by a shelter, who contacted us when no one came to claim him. His foster mom says he is a sweet, sweet boy! He is adjusting very well to his foster home.
Shortly after arriving in rescue, Alfredo was rushed to the doctor because he was feeling very poorly. It turns out he had pneumonia! He is now recovering nicely, but while being treated the doctor discovered he has a heart condition/murmur. He will need to be on medication for the rest of his life, but as to exactly what kind and the cost it is yet to be determined.
Despite all this, Alfredo is a happy boy who loves to cuddle and gives great bulldog kisses! He is gentle as a lamb with children and gets long wonderfully with the other, smaller dogs in his foster home.
HOW TO ADOPT:
Please view the adoption process and fill out an application at their website ---> indianabulldogrescue.com
To view more available English Bulldogs from this rescue, click this link ---> Indiana Bulldog Rescue
Please let them know you found them on English Bulldog News!