Dec 19, 2017
7
1
Country

England
Bulldog(s) Names

Frankie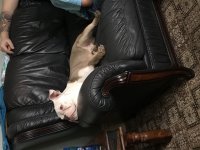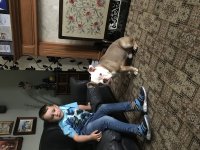 Hi, Hoping you guys can help me with the final puzzle piece in Frankies house training. When we got him at 12 weeks he was not house trained as his breeders kennels were outside and there was a communal toilet area. After trying the taking him out often and giving praise and rewards we were still having many accidents when we were at work and overnight and as he started to shred the puppy pads and eat the furniture I decided to crate train, which has been very successful.
The problem is when we are at home he doesn't want to go out even if he wants to go potty! Even if the back door is left open. He will still just pee on the dining room floor. I often go out and then he follows me in to the garden and then he goes but if say half hour later he needs to go again he will just go in the house! and yet in the crate he will hold it.
It would just be good to get to the point where he goes out without me having to prompt him and I don't need eyes in the back of my head when he's not in the cage!
He is very much a family dog and doesn't like being separated from us when we are home! Plus he's not keen on going out!
My wooden dining room floor is really suffering from all the pee and cleaning!
I have a holiday in a couple of months where I'd like him looked after in someone's home rather than kennels and he needs to be completely house trained for that.