Mar 19, 2013
91
4
Country

Good old US of A
Bulldog(s) Names

Norman(RIP) & Jenkins
Hi again. Thanks for all the kind replies to my previous post. This is Jenkins.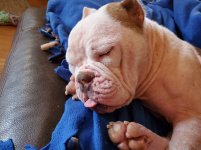 He's settling right in. If you missed it, he's my second rescue Bulldog. Norm was my first. It's a whole different deal. Norm was 4. We're thinking Jenkins is about 1. How much did your bully weigh at a year?
I know raw hide bones are a no- no. Jenkins likes to chew. A lot. He seems to really like this super hard plastic type bone that came from the previous foster. Can anyone give me a quick refresher on what's good for chewy Bulldogs? I don't want him to damage or wear down his teeth.
Can you have a bulldog without a tail pocket? Norm had a screw tail with a pocket that needed daily care. Jenkins has a crazy tail. It's pretty much straight up with a kink.
We're working on housebreaking. As well as "sit", "leave it", "no", etc. So we're working on backdoor for potty, sit for leash (my yard isn't fully fenced) , out we go. Outside bathrooms get high praise and a treat when we go back in and sit for leash. He's caught on to sitting for a treat like a champ. He's even tricked the hubs into taking him out so he can come in and get a treat. He got me this morning. Sat his butt by the door, got my attention, out we went. But no potty! He went out and then wanted back in almost immediately. Then sat and looked at me like, "where's my treat? I'm a good boy." So any housebreaking tips?
Thanks for reading!