Nov 17, 2011
1,061
46
Bulldog(s) Names

Rook
We took a long weekend, and headed to Toronto to spend time with family. Everyone was excited to meet Rook, so of course he came too!
Rook had only taken about five or six short car rides prior to our trip, but as soon as we pulled up with the rental car he couldn't get in fast enough.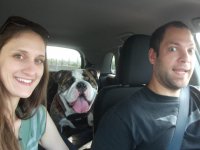 Hitting the road (lucky me to be stuck in the car with these two nuts.)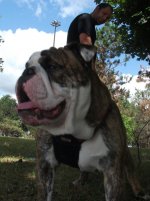 Stretching our legs at a rest stop.
We arrived in Toronto 7 hours later, and Rook quickly befriended Adam's cousin Nicholas. Who knew that an 11 year old boy and an 11 month old puppy have the exact same energy level?!? Needless to say, they were inseparable and got each other into lots of trouble. It was great to see how gentle Rook is with kids since we didn't have many opportunities to socialize him with children when he was a puppy. He did great with Nicholas and all of the other kids he met in the neighborhood, sitting patiently so that he could get lots of attention from his new friends. It didn't take long before everyone on the street knew who Rook was, and ran out to greet him when we took him for walks.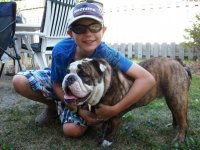 Getting love from his new BFF, and enjoying his own fenced in yard (Such a luxury!!!).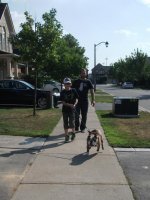 Rook taking Nicholas for a walk.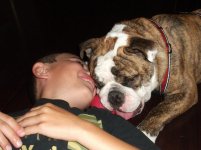 Sharing secrets (and a ball).
We made the trek back home yesterday, and Rook is completely tuckered out.
He slept almost the entire way home, and then had to rest some more.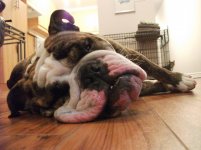 I think he definitely enjoyed his vacation!