We have created a new award here at EBN for Rescue! This award is to help raise rescue awareness.
If you have ever done anything to help save an animal's life, then please request this award. This includes donating, adoption, fostering, volunteering, ect. This award is not limited to bulldog rescue, it is for all animals.
This award will be proudly displayed in your user profile, as well as in every post you place here! To get one, just request it here in this topic. All we ask in return is a reply in this topic about rescue. You can even tell about an animal you saved, events you have attended, ect. You can also request your award or request awards for others under "Awards".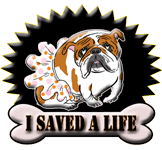 Last edited by a moderator: