Well-known member

Dec 4, 2012
4,537
626
Country

USA
Bulldog(s) Names

Chumley and Hershey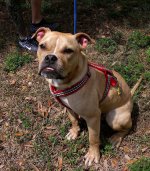 Remember Remi? He's one of Mama Riley's pups.... Remi is a year old and a handsome high energy fellow! He's done some time with the training program at Applause Your Paws. Thanks to Trainer/owner Dee Holt for taking Remi under their wing as a donation of services to rescue. Remi's got his English bulldog mama's underbite and dished nose but papa was unknown. He's been doing well in his foster home
and looking for an adoptive home. Remi needs an adult home or one with older children and can get along with submissive dogs. He has energy and needs to run and play and should continue basic obedience training to keep his mind active too. Remi is as healthy as a horse and the type of fellow who can join in athletic activities with his people. Let's get this sweet boy in his forever home!!



HOW TO ADOPT:




Please view the adoption process and fill out an application at their website ---> buddiesthrubullies.org


To view more available English Bulldogs from this rescue, click this link ---> Buddies Thru Bullies


Please let them know you found them on English Bulldog News!