I couldn't make this sh*t up if I tried!

Jul 21, 2010
7,219
728
Country

USA
Bulldog(s) Names

VEGAS and REBEL
Being in the 60's today I was able to take Vegas on about a 20 min. walk through the neighborhood. Of course him snorting and grunting and smelling everything like a pig on the grass/ground (we don't have sidewalks, so we walk on the edge of the street) the walk turns into about 40 min. And remember I live in Fl. so alot of yards are sand, my back yard is about half and half.
We came home, he ate his dinner, then it was wash his face time. I did not wash it last night but I am faithful eveynight, but I did skip last night because I was just lazy (and maybe a little tipsy

)
This is the washcloth I used to wipe just above his nose!!
.
and that is not the rest of his face
This is his pretty face after a good wash-dry, and desitin!!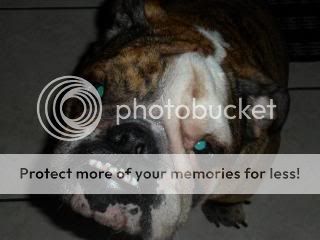 You can see the desitin on his upper nose, he HATES it! He was one dirty boy!

Last edited: