Feb 9, 2020
44
0
Country

US
Bulldog(s) Names

Walter
Hello
I will be going back to work soon and I work at a restaurant from 4pm-10pm. I have my neighbor letting my EBD out to go to the bathroom during my work hours. Although it really breaks my heart that he will be left alone for a long time. During quarantine, we would spend the whole day together every single day. We would go on walks and play, etc. Plus my EBD is super active like a Lab!!! Now that I have to go back to work he may feel depressed as it is not gonna be the same as before. Sometimes I keep him in the Kitchen and sometimes crate when I run errands.
How long do you all keep your EBD in the crate?
For the people who you ask to let your EBD out , do you ask them to take them for a walk?
What do you leave your EBD with, to keep them busy?
Any advise on my situation?
Just curious if you have all experienced this before. I really don't want my EBD to get depressed esp. he's super active.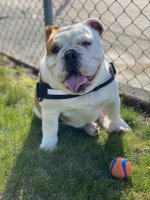 Thank you