Apr 24, 2016
24
4
Country

USA
Bulldog(s) Names

Samie and Hercules
On Monday, July 24th I On Monday I lost my dearest baby boy Hercules. 💔 To say he meant the world to me is an understatement. Hercules came to my husband and I in bad shape from a rescue after having a loveless home 2 years and 9 months ago. We are guessing he was between 7-9 years old when we took him in. To watch this dog morph in front of my eyes from an exhausted soul into acting like a puppy was the greatest gift I have ever witnessed. As we treated some previously ignored medical issues and gave him the love he always deserved, we watched his face get brighter each and every day. This picture was one of the last ones I took before his passing and he looks as happy as can be (but that may be because he is beside me at the kitchen table and knows he's getting my scraps shortly).
A little over two months ago we were given the diagnose that he had bladder cancer. A 4-6 month prognosis turned into 10-12 months after a successful surgery to remove his tumor. I started with holistic treatment along with chemotherapy to try to give him as much life with us as possible. I began cooking him wholesome meals consisting of cancer fighting human food and did countless amounts of research to do whatever I could for my little guy. Little did we know he was in worse shape than we previously thought and he was masking his pain because he had such a strong will to live. He was still insisting on taking walks and running down the hall with me and spending every moment by my side. I almost didn't believe he had cancer because he was my same happy and energetic boy. We have another English bulldog, Samie, who we got as a puppy and is 5 years old. Hercules would literally run circles around Samie and she is healthy but just very lazy. Therefore, I am still in complete shock of his passing.
Three days before his passing I flew from Florida to my hometown of New Jersey for a family reunion and to visit with some old friends I do not get to see very often. I had canceled a trip a few months ago because he was not doing as well as I had hoped right after his first surgery. I was very hesitant to go away even though I knew my husband was more than capable of taking care of him. I noticed he was a little sleepier than normal but I had been home more the past few days before my trip and figured it was because he was following me around all day instead of sleeping normally while I was at work. So he was up a lot during the day but very sleepy at night. The bladder cancer was causing him to get me up a few times a night for bathroom breaks but those few nights before I left there were a little less bathroom breaks. I just thought because we always had such a strong connection and the guilt of leaving him for those few days was getting in my head and that he was fine. After all he is entitled to be tired after all of the fighting he has been doing. I decided to go on my trip but missed him like crazy. I was calling my husband and asking him to send photos and update me how he was doing every few hours. He said he seemed a little tired but was probably just missing me. On Monday morning, my husband called me to tell me he was taking Hercules to the vet. Not wanting to worry me he said he thinks he may have just hurt his paw because he is having trouble standing. After a rapid deterioration over the next few hours our worst fears had come true. The vet informed us that Hercules' cancer had spread to his front legs and his bottom legs were giving out because his lymph nodes were so swollen they were pushing his kidneys down into his hips. Just that fast he was unable to stand and shaking in pain. My husband face-timed with me while I pleaded to see if there was anything they could do because I quickly booked a flight that could get me back into town that night. The vet said he was in too much pain and was unresponsive to food and water at this point and his eyes were no longer with them. My husband and I made the decision to put my baby boy out of his misery. I always heard stories about not knowing when you would finally know it was time and he made it very clear to us. It happened so quickly we were both just in shock. I am having trouble with the guilt of not being there during his passing. Between his happy, bubbly face, and him constantly trotting along my side as I walked all over the house every day I would have never known how much pain he was in. It's hard to not feel guilt for leaving him while he was sick at all. Part of me became so convinced he was such a warrior, I believed he would live for another few more years. He had fought so many other battles that cancer couldn't take him down. Maybe that was a good thing because it did not make me treat him as a dying dog, but rather a dog that was living his best life every day. I will never know why my sweet body passed without me there, but one day I hope to have peace with it and knowing my husband was by his side until his last breath is helping me cope.
His body shut down and he let us know he tried as hard as he possibly could to hang on for a life he always deserved but it was his time. He didn't want to show weakness. Hercules was without a doubt my best friend and I am completely heartbroken. 💔 We had a connection that I have never before experienced with a dog and i am unsure I will ever make that connection again. He knew my emotions from just looking into my eyes and I will never forget that incredible bond that we shared. He was my canine soul-mate. I will forever remember what an impact he made on my life and the will he had to live and survive even after such a rough past. He was my warrior and I think he was stronger than I ever even knew. 🐶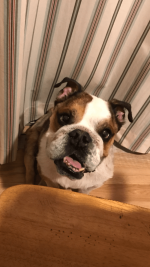 Thanks so much to everyone who listened to my story. I feel as though writing this is therapeutic by letting me share my emotions. I don't post too much on here but read quite often and have gained a lot of great advice over the years. I am happy to be a small part of such a loving community.