Queenie

Mar 11, 2011
12,680
873
Country

USA
Bulldog(s) Names

Emma, Charlie, Milo, Peekaboo and Jack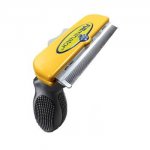 This is a MUST HAVE in my books. It gets down to the deep coat that no other brush can do that I'm aware of. It's pricey but well worth it.
[h=2]Shedding Solutions for Dogs[/h] Love your pet but not the shedding? That's why we invented the FURminator de
Shedding
tool. Shedding is natural and there's no way to eliminate it. But there is a better way than constantly vacuuming and scrubbing hair off your floor, furniture, clothing and car seats.
[h=4]Precision Tool Selection[/h] Not all dogs were created equal which makes FURminator the best choice when it comes to de
Shedding
solutions. Simply select the tool that matches your dog's body size then select either the short hair or long hair edge for a truly customized grooming experience. Matching each dog to the ideal tool significantly enhances de
Shedding
results.
Reduces shedding up to 90%
Stainless steel deShedding edge reaches deep beneath your dog's long topcoat to gently remove undercoat and loose hair
Used and recommended by veterinarians and professional groomers
FURejector® button cleans and removes loose hair from the tool with ease
Guaranteed to reduce shedding better than any brush, rake or comb
Designed by a groomer for professional results
Last edited by a moderator: