New member
Community Veteran
Nov 8, 2011
1,046
77
Country

USA
Bulldog(s) Names

Aubrey (RIP 5-4-12), Aubie Shug (DOB 3-23-12)
Long time no see!

Aubie's 6 now, and she was just diagnosed with dry eye, hip dysplasia, and spondylosis.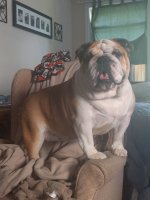 Her vet originally said she had entropion. We went in for a consult to see about getting it and her cherry eye fixed, but the vet said she would rather the ophthalmologist do it since she needs both done and she's a bulldog. So, we saw the eye doc yesterday, and she said no entropion (yay!) but definite dry eye (boo!). We're on tear stimulant (tacrolimus) and antibiotics (neopolydex) to get her eyes under control, then she'll have her cherry eye fixed. I have a few questions for those with experience in this:
1 - If it impacted your dog's vision, how long until you saw improvement?
2 - Is there anything we should be aware of when taking tacrolimus long term?
3 - Are there any other medications that might be recommended down the road that I should be aware of/concerned about?
She also had an x-ray recently that showed hip dysplasia and spondylosis toward her tail, but one area a bit higher, more middle back. We immediately removed her steps and built her a bulldog-proof ramp for the bed, and we're helping her drop a few pounds so she'll have less weight to tote around. She's not showing consistent signs of it, but looking back, there were times when she'd play hard and limp for a bit afterward, or she'd jump on the chair or bed and pant a bit afterward. She hasn't had such an episode since her ramp was built a couple of weeks ago, so hopefully it's helping.
Does anyone have experience with this condition? What should I expect? Anything I can do to keep her pain-free and active for longer?