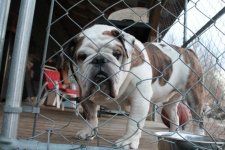 From Malik Jr.: Hey everybuddy!!! My friend Clay needs your help! He's been stuck in boarding in Upstate, NY for a year now and is looking for a forever home!
This is what his boarding facility (who loves him but wants to see him in a pawsome home) says about him: "He simply needs structure. He was 6 years old and had none. Claimed the furniture. Demanded food and treats. So, [he has] resource guarding. His handling skills (nails/ba

thing face/ear/eye wipes are easy now. His fav thing in life is his basketball and a cheerleading section. He does not want players, but his joy is unmistakable, so no small balls in the house, but a small yard with his basketball will keep him happy for the rest of his life. You just can't take away someones ultimate happiness."
Like all bulldogs, he has some perfect home requirements. No Kids: Clay gets too excited and they may have food or try to "move" his ball. No dogs, not because he is outright aggressive, but because they may be less than dog savvy and go for his food or ball. (No problems noted at all with cats.) The most important requirement: access to at least one basketball!

How To Adopt:


Please view the adoption process and fill out an application at their website ---> On The Rebound Bulldog Rescue

To view more available English Bulldogs from this rescue, click this link ---> OTRBR

Please let them know you found them on English Bulldog News!

​

​