Dog Hoarder

May 27, 2013
2,399
151
Country

Canada
Bulldog(s) Names

Megan = Meg,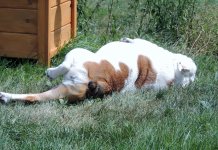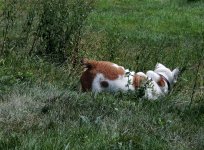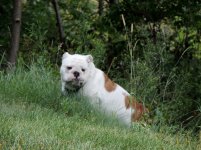 Funny story here
Tilly and I sitting out on the front lawn Me having a wonderful glass of white wine as the world goes by .
Tilly on this warm summer day decides to do the Bully back scratch on the lawn as you see in the 1st pic, she loved that on the grass BUT...On our front lawn there is a hill going down to a 2nd lawn very gradual but downhill all the same. As Tilly is enjoying her scratch she forgets all about that incline enjoying the sun warmth and scratch, as she wriggles back and forth she gets closer to the edge ( 2nd pic ) and down she slides on her back app 10 feet I never laughed so much in My life hard and loud it was . I wait camera in hand as Tilly very timidly comes back up the hill ( 3rd pic) looks around with a sort of what are you laughing at look, I am in tears at this point hard to hold the camera, she looks at Me and ( last pic ) decides I should not be enjoying Myself that much and runs at Me to play was funny as hell !
Anyone else have some pics of there bully full of P and Vinegar ?
Last edited: