Jul 26, 2011
1,758
398
Country

US
Bulldog(s) Names

Bullie (RIP) & Angus (RIP)
What's wrong with this picture?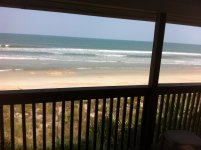 THERE ARE NO PETS ALLOWED!
The beach is so awesome here. This is going to be my office for the rest of today and tomorrow with the family having a reunion indoors... I already miss my pets. Everytime I look at the beach I think of how Bullie would have loved to run up and down the thing. Gizmo doesn't care for the sand, but he would love to just snooze right next to me on this windy balcony.
I'm not for getting-my-way-by-legislation but man, It's gonna be tough not to vote for anti-pet-discrimination for beach houses!!!