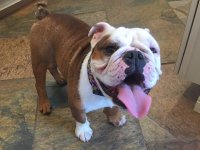 Meet Aztec, a tiny 1 year old English Bulldog with a corckscrew tail, that is still very much a puppy. He loves to wrestle and play, and is especially fond of chasing tennis balls. He needs some work on the brakes though, as sometimes his back legs go into the air when he arrives at it. Aztec has the typical bulldog confidence, and loves to pick up large objects (branches, yard equipment) and parade them around in full strut. He gets along great with other dogs, and fit right into the pack in his foster home with several active dogs. He does well in the kennel too, and is easily entertained by a kong chew toy. Aztec is a "mini bulldog" who weighs in at just 40lbs, but there is nothing mini about his personality. He is a happy, confident, dramatic bulldog who puts a smile on everyone's face. Aztec does suffer from seizures, but has been seizure-free since being diagnosed and prescribed medication. However, please note that Aztec will need to remain on these meds, which cost about $90/month, for life. This is non-negotiable unless a vet prescribes a new treatment plan. Potential adopters are welcome to ask more questions at the adoption event (details below), and receive more information should you want to ask your own vet questions about this.
​
View attachment 80116



​
Please view the adoption process and fill out an application at their website ---> neworleansbulldogs.com
To view more available English Bulldogs from this rescue, click this link ---> New Orleans Bulldog Rescue
Please let them know you found them on English Bulldog News!
​