Hey guys! So as you all know, I have had Brisket for a little while, and he shares our home with a bunny (that is not in danger with Brisket around) and Oreo, our 5 year old schnauzer. Now, when we first brought Brisket home, Oreo was excited and very sweet and caring, playful with him, and gentle. Brisket loved playing with him!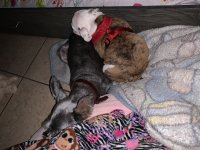 But, now that Brisket is getting bigger, he is getting rougher and stronger when playing with Oreo, and he's bit Oreo pretty hard. Oreo became defensive when Brisket wants to play and altogether tries to avoid him.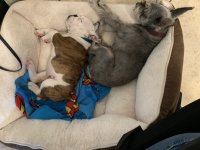 Brisket also will not let Oreo get any attention from me or get near me at all. He tries to bite Oreo or bark at him until he moves. I correct him repeatedly and put him in his crate for a timeout, but he doesn't seem to be getting better. They used to get along so well and Oreo still tries to approach him gently, but once he picks up on Brisket wanting to play, his guard goes up.
Does anyone have any suggestions? How can I get Brisket to be more gentle with Oreo?