I have rescued several bulldogs over the years after owning bulldogs for many years, I am now faced with something I've never encountered before and am hoping for some guidance.
Our home consists of my husband and myself, our 7 year old rescue boy, a 3 year old rescue Manx cat, and a new girl. 5 years old. Raised in the home of a breeder. Shown a time or two, and bred for one litter of pups, which were delivered successfully. She is now spayed and living with us.
We had two rescue boys, bonded pair. When one died recently of cancer (liver) and Cushings, we felt it important to add another to our home as our remaining boy was grieving terribly for 4 months.
We again looked into rescue, but the dogs we were seeing were either ONLY dog homes or were in areas that only adopted within their own area (while I understand this, I find it odd that someone who has been in the rescue and known to do rescue can't get a dog from another rescue (when they have many dogs needing homes) because of location...but I digress).
Along comes this little darling girl via a friend of a friend. Maisie is sweet and beautiful, and VERY SCARED.
Behaviors include:
Slinking like a cat as she runs from any noise (it can be anything from someone loading the dishwasher to someone dropping something.)
Hiding behind the dining room table and not coming out unless made to do so.
Hiding in the hallway (bedroom doors closed)
What we call "bustering"...deciding she wants somewhere she feels safe if that means taking the legs out from under you.
She was going outside very well and had a favorite tree she liked to do her business around...we can no longer let her out to use that tree without a leash as she will run under the tree and NOT come out, even at 20 degrees. I was out under that big pine for 45 minutes sweet talking and coaxing one day in that weather.
We've had her a month. She is so happy to see us. Her little but and tail go a mile a minute. She is so happy to eat. She is so happy until ONE THING will set her off and that's it for the day.
WE have a dog walker who comes in every day and even she is questioning what we can do to stop this.
Any thoughts on how to help this girl get over her fear of everything?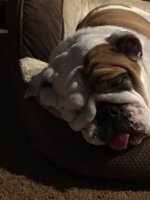 All worn out from everything in the world making her jump!