Well-known member
Community Veteran
Apr 3, 2011
1,581
138
Country

United States
Bulldog(s) Names

Oliver, Sebastian, Remy, Gracie, and Tonka (10-21-07 to 05-29-14 RIP)
received their Secret Santa prezzie's from [MENTION=4081]mcraven2[/MENTION] and Gio, Princess, and Diva today. Sebastian immediately grabbed one of Oliver's and tried to take it to the toy box. That's his thing, he will take a toy or antler away from Oliver or Remy and put it back in the toy box. Didn't get a picture of him stealing it, but got some afterwards. The boys can't open them until Christmas morning.
Also, Melissa, yours were wrapped so nice and the card was beautiful. With everything going on in my life right now, I didn't send out cards but want to wish you and your family a Merry Christmas.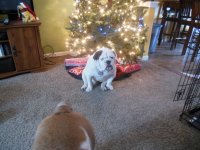 Oliver was guarding the prezzie's from any more of Sebastian's shenanigans LOL. Oh and that's Remy's tushie in the way.