Feb 18, 2012
28
4
Country

Canada
Bulldog(s) Names

Matilda(RIP), Dozer
Hello,
After having lost our last bully Matilda in Oct of 2019 we have finally found another. We just brought home an 8 week old puppy today named Dozer. We have never raised a puppy before so we have some questions mainly about feeding.
We are going to give him a few days to settle into his new home before we start to transition off the Royal Canin that he is currently on. We have purchased Acana Puppy but aren't clear on the amount or frequency we should be feeding him. The bag says for his weight now and for his adult size it should be 2/3 of a cup and another spot on the bag says to feed twice a day. So is that 2/3 twice a day or do we halve that amount and feed him 1/3 twice a day? Other sites and foods I'm seeing say feed him 3 times a day until he is 6 months.
Also we know Acana is good but is the single protein better then the puppy stuff? The puppy stuff is mostly poultry so we got some freeze dried salmon and beef liver treats which are single ingredient to introduce him to a few new things. Are we ok to stay on the puppy formula or should I try and return it and go with the single protein on rotation?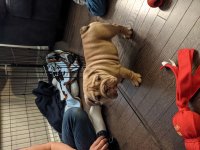 Thanks